Routines have been thrown up in the air and many have had to adjust and find new ways to pursue their goals. Plenty of us have struggled and feel a bit lost.
One way or another, sooner or later, gyms will return to something like business as usual. We can't wait! But we can't overlook the fact that many people will need
to recover some motivation to get back to it, or perhaps even join a gym for the first time.
We understand that for many women, deciding what to wear to the gym can be a source of stress and anxiety. It can be a headache to balance what is
comfortable, what looks good, and what is appropriate to wear to your workout. 
Let's take on some of the questions you might have about women's gym clothing .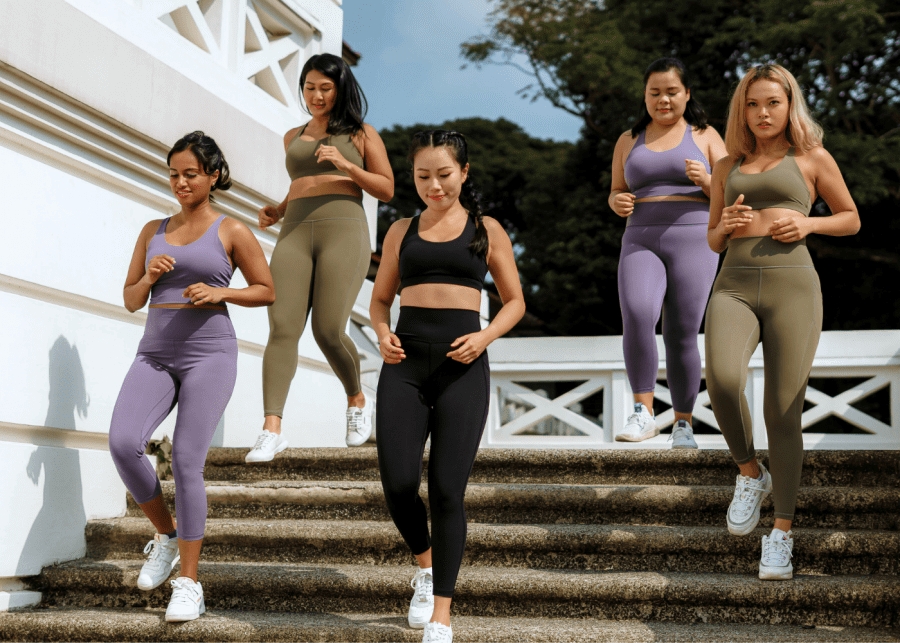 What should I avoid wearing to the gym?
For the most part, the best thing for you to wear to the gym is always what makes you feel most comfortable in your own skin. However, there are also some items
that we think are wise to avoid. These include 100% cotton fabrics, old or stretched workout clothes, and clothes that are too loose or too tight. Read on for more.
Why can't I wear cotton to the gym?
Listen, we hear you. Sometimes, you just want to throw on your favourite old cotton tee and be out the door. But unfortunately, while convenient, this gym wear
option has some major drawbacks. Clothes that are 100% cotton absorb every bit of sweat your body produces, causing clothes to become damp, soggy, and
heavy. So, though you might be feeling extra comfy when you enter the gym, by the time you leave, you'll be feeling more like a wet, sweaty blanket.
Instead of cotton, look for gym wear designed with sweat-friendly moisture-wicking synthetic or blended fabrics, designed to be breathable while still repelling
sweat, to keep you comfortable, dry and fresh during your workout.
What if my gym clothing has lost its shape?
While it can be tempting to hang on to workout clothing for as long as is possible, your gym wear won't last forever. It's just part of life; all clothes wear out,
especially items that go through high-intensity activities like working out.
There will come a time when you'll have to make a call on retiring some of your gym clothes. They can become awkward and inappropriate as they lose their
form, especially sports bras, which can lack adequate support when over-worn.
When in doubt, you can't go wrong with giving your gym wardrobe a glow-up. New gym clothes aren't just important for replacing shapeless old items, they can
also help you build confidence as you start a new workout routine.
How well do my gym clothes need to fit?
Of course, fit is always a crucial component of looking your best, but it's especially important in the gym. A baggy pair of sweatpants might be ideal for a lazy
day on the couch or a casual brunch, but loose-fitting items can snag on workout equipment. Getting tangled up in an elliptical is a less-than-glamorous look…
not that I know anything about that, ahem… Let's move on. Instead, opt for leggings that fit close to the body to give you wonderful ease of movement. 
On the other hand, you also don't want to wear clothes that are too tight. Gym clothes that fit too snuggly will restrict the range of motion necessary for you to
get a full workout, not to mention being uncomfortable and prone to rips and tears. The best clothes to wear to the gym will always be the ones to make you feel
most confident, and nothing makes you feel more confident than the perfect fit.
---
Post time: Sep-10-2021